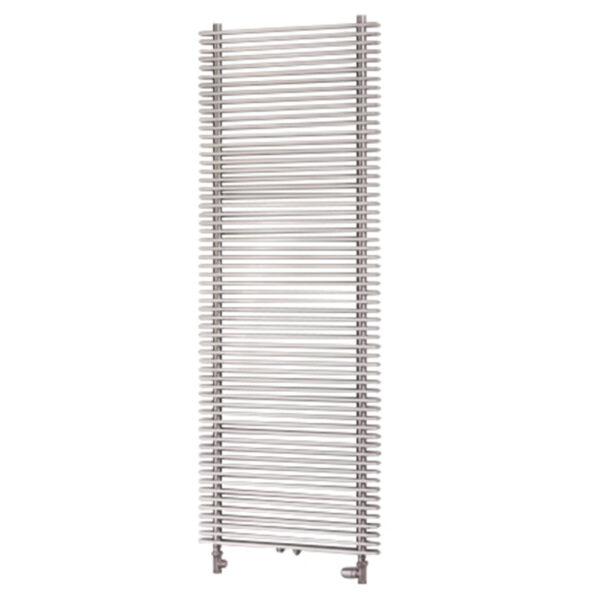 Pegasus
Let your interior design soar with Pegasus.
Tiered against the wall to create an unusual, slimline look, uncompromising hard edges dissect gorgeously smooth poles. It's a statement piece and then some.
The Details
20-Year Warranty
Available in 3 size options
Available in Brushed Matt and Polished Finishes
Slimline Stainless Steel design
We recommend pipework is not installed until receipt of radiator
Please allow 6-8 weeks for delivery on Polished models, and PAG51040-S
All prices are exclusive of VAT and delivery
The Range

MAX WORKING PRESSURE (BAR)

120 DEGREES MAX WORKING TEMP

OPEN / CLOSED SYSTEM

STAINLESS STEEL

HORIZONTAL / VERTICAL MOUNTING

20 YEARS WARRANTY
PRODUCT NAME
HEIGHT (mm)
LENGTH (mm)
DEPTH(mm)
FUEL OPTIONS
TOWEL GAPS
PIPES/SECTIONS
HEAT OUTPUT (BTU)
HEAT OUTPUT (WATTS)
WATER CONTENT (L)
GROSS WEIGHT (KG)
FINISH
RRP
TECHNICAL
PAG50520-P
510
550
40
E/H/D
n/a
20
3039
890
3.08
18.0
Polished

£

1,398.31
PAG50520-S
510
550
40
E/H/D
n/a
20
3039
890
3.08
18.0
Brushed Matt

£

1,120.34
PAG51040-P
1010
550
40
E/H/D
n/a
40
6079
1780
6.16
35.3
Polished

£

2,615.25
PAG51040-S
1010
550
40
E/H/D
n/a
40
6079
1780
6.16
35.3
Brushed Matt

£

2,094.92
PAG51560-P
1510
550
40
E/H/D
n/a
60
9118
2670
9.25
52.4
Polished

£

3,832.20
PAG51560-S
1510
550
40
E/H/D
n/a
60
9118
2670
9.25
52.4
Brushed Matt

£

3,069.49
When ordering suffix the product code with "S" for brushed matt finish and "P" for polished finish. Fuel options: E: Electric only H: Hot Water only D: Dual Fuel which is both electric in summer and central heating hot water in winter Prices include delivery. However a delivery charge may be applicable to Scottish Highlands and overseas postcodes.
Prices above are recommended retail prices and are exclusive of any customer duty, levy or value added tax. Pipe centre measurements are incorporating pair of valve distance of 45mm each where applicable. Outputs published are to EN442 at ΔT50. Multiply by 1.268 to convert the outputs to ΔT60.
Prices quoted are guided prices and are subject to change. Product specification is subject to change without prior notification.
E/H/D: The price quoted refers to a product suitable for Hot Water. Electric and Dual Fuel options require additional elements; please contact AEON for a quote.